…Linden etches out 100 point leadAS Linden athletes continue to dominate the scene, Daniel Williams delivered a new record as he took a striking win in the Boys' Under-18 100m finals, following a series of 800m wins from Joanna Archer, Anfernee Headecker and Kezra Murray, as competition in the National Schools' Cycling, Swimming and Track and Field Championships continued yesterday at the National Track and Field Centre.Williams' teammate Deshanna Skeete was just outside the girls Under-16 record, after she clocked 12.26 seconds for the win, just ahead of West Demerara's Binka Joseph, who was second with 12.42 seconds.By the end of 64 finals last night, Upper Demerara/Kwakwani had already extended their lead to over 100 point, after piling up 364 points. Their nearest challenge is coming from West Demerara (District 3) which has 248 points.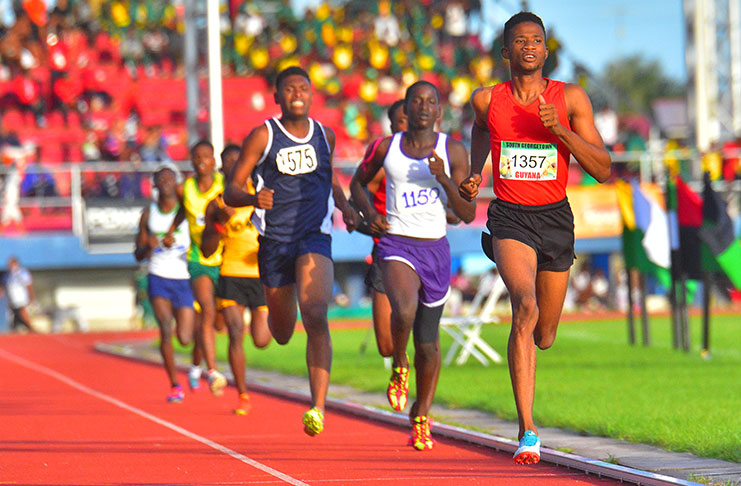 South Georgetown District 13's Anfernee Headecker cruised home to win the Boys U-20 800M (Samuel Maughn photos)North Georgetown (District 11) and East Coast Demerara (District 4) share fifth place with 192 points.West Coast Berbice (District 5) follows with 169 points, while North West (District 1) has 163.5 points. Rounding out the top ten are New Amsterdam (District 15) (143.5 points) and East Georgetown (District 12) (129.5 points)Williams 10.65 seconds, saw him humbling South Georgetown's Umkosi Vancooten, and New Amsterdam's Jermaine King, while also blasting away the 10.7 seconds record that was first set in 2010 by East Coast's Chavez Ageday, and last equaled in 2014 by District 10's Compton Caesar.Vancooten took second with a time of 10.99 seconds, while King finished in 11.18 seconds.This latest triumph marked Williams continuing the trail of his record breaking legacy at the annual meet, where he already holds at least one record in each of the three sprint events.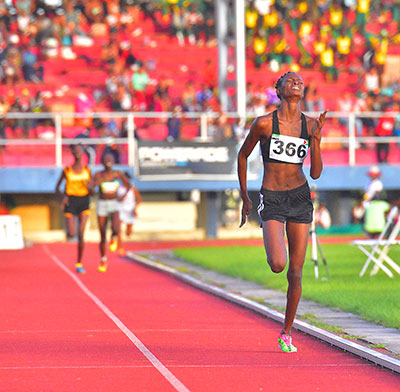 West Demerara's Joanna Archer battling to the finish in the Girls' Under -18 800m.The Boys' Under -18 100m record adds to the boys Under-14 (11.6s) and Boys' Under 16 (11s) 100m records, while in the 200m record, Williams shares the boys' Under-16 (22.6 seconds) record with Jason Yaw. He set the boys' under 14 record at 54.9 seconds in 2013, and the boys' Under-16 record at 51 seconds in 2015.Archer had her hopes of clinching her first record at Nationals dashed when she could only complete the girls' Under-18 800m in 2:23.27s.Headecker may never know if his 1:55.46s winning time in the boy's Under-20 finals was a record or due to a technicality with that events current record. Leading the race from the get go, Headecker was able to keep up his pace to keep North Georgetown's Sanuel Lynch from getting close to him.By the time Lynch decided to make a go, it was all too late as Headecker had already put quite some distance between himself and the competition. Lynch ended up taking second place with a time of 2:01.05s. New Amsterdam's Laurindo Prince was third in a time of 2:03.11 seconds.The day also saw at least two other records tumbling, with District 10's Murphy Nash clocking 2:01.43s, to take down the four-year-old 2:04.5s record by Jomal Johnson.Another District 10 star, little Adessa Albert put the Girls Under-10 long jump record at 4.03m, erasing the 11 year old 3.89m record that was set by Celene Web.